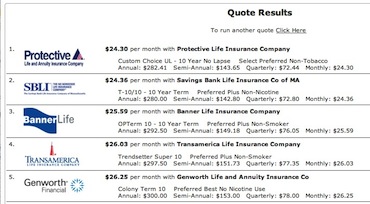 The full version of VAM dB comes with Compulife's ® life insurance quote engine and forms library integrated for those who subscribe to the Compulife ® life insurance comparison software. This allows you to run quotes for clients right from the CRM eliminating the need to go to different places to work the leads as they come in. Quotes can be saved and immediately sent to leads via email or printed to be mailed. The quotes can be output in any format you like and can contain different comparisons. You can select the companies that are quoted or just run a quote for one company. (must be a Compulife subscriber)
You can also purchase term life insurance quotes for your website. Learn more about this option.
Learn more about Compulife here.